We are headed to the Horus Heresy, and the Mortal Realms with merchandise for Horus Heresy, Cursed City, and extra. Take a have a look at these costs.
It's a return to the Age of Darkness, and Mortal Realms with an enormous set of recent GW merchandise. Here come the most recent releases.
All this stuff are up for pre-order October 1. Street date is October 8.

World Eaters Upgrade Sets :  
$23 
€18 £14.50
"Show your loyalty to Angron and the raging XII Legion with these new upgrades in your Mark VI Space Marines. The head set contains 9 helmeted heads – that includes the crests which can be nonetheless fashionable 10,000 years later – plus a helmeted sergeant's head, and a naked head exhibiting off the notorious Butcher's Nails. "
Space Wolves Upgrade Sets :  
$23 
€18 £14.50
"You can also upgrade your Space Wolves units with heads and shoulder pads. You get eleven heads in total – nine Legionary helmets, a decorated officer's helmet, and a bare head. The other upgrade set offers 10 moulded shoulder pads featuring the Legion icon."

Space Marine Heroes :  
$8 
€6.5 £5 (per particular person blind field)
"Build a Tactical Squad or kill team, one blind box at a time. There are six push-fit Space Marines to collect, all in red plastic with both helmeted and bare head options, connoting the Blood Angels Chapter – although you can paint them any colour you like! You can also buy a dispenser set of eight miniatures, guaranteeing you'll get all six different models with two extras."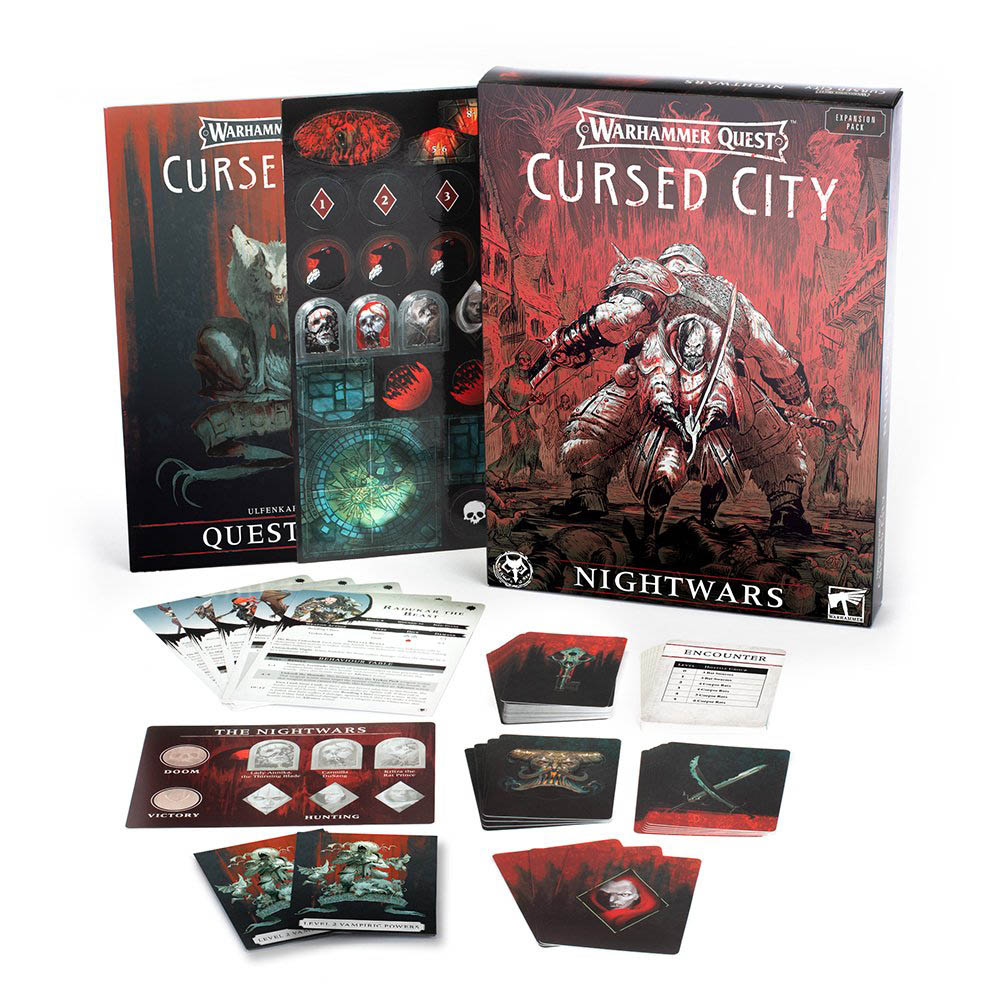 Cursed City Nightwars :  
$50 
€40 £30
"Continue your heroes' journeys with the first expansion for Warhammer Quest: Cursed City. As three new vampire lords seek to claim dominion over the city, can you put a stake in their claims? This set includes rules for three new journey types and all the cards and tokens you'll need on your quests."

War Cry Core Book:  
$50 
€40 £30
"First available in the Heart of Ghur boxed set, the Warcry Core Book for the new edition is coming out separately. It includes the core rules for the game, loads of background on the brutal setting – the Gnarlwood – and lots of extra content for matched, narrative, and open play, including quests, campaigns, and more."
I just like the subdued World Eater bunny ears!
Subscribe to our publication!
Get Tabletop, RPG & Pop Culture information delivered on to your inbox.
Dad, Gamer, Publisher, Pilot, Texan. All video games on a regular basis since junior-high.
I began BoLS Interactive in 2006. I'm a lifelong tabletop & RPG gaming fanatic, and web writer working to entertain and inform my readers on daily basis.
I've been enjoying RPGs and Tabletop Games because the Seventies. I'm been enjoying and protecting Warhammer and Warhammer 40K for over 35 years.