We are headed to the Mortal Realms with a tidal wave of latest kits and starter units! Take a have a look at these costs.
It's a return to the Mortal Realms with Arcane Cataclysm, and an entire lot extra! Then some Warcry. Here come the newest releases.
All this stuff are up for pre-order August 20. Street date is August 27.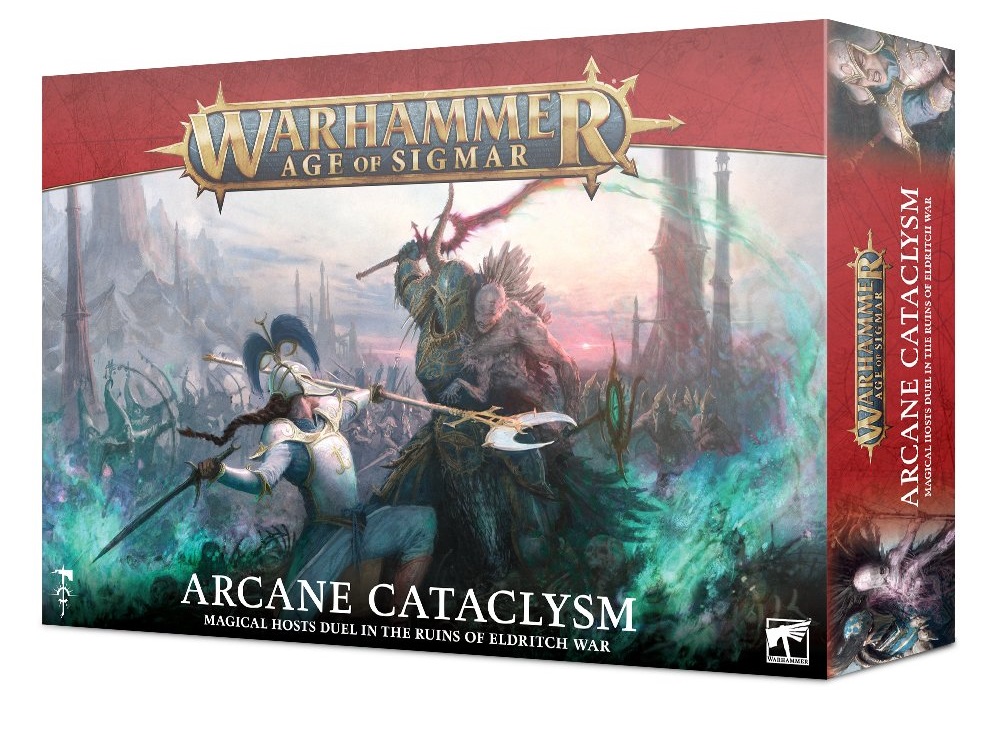 "Arcane Cataclysm includes five Vanari Bladelords, five Vanari Dawnriders, 10 Vanari Auralan Sentinels, three Tzaangor Enlightened on Discs of Tzeentch, 10 Tzaangors, and 20 Kairic Acolytes. Either force is a great way to kick off a new army or add to an existing one. Finally, the box also includes a campaign booklet with lore and rules, a 56-page Core Rules book, a token sheet, and warscroll cards for the units."
Arcane Cataclysm :  
$220 
€175 £135

Krondspine Incarnate of Ghur :  
$60 
€45 £35

Cleansing Aqualith :  
$75 
€60 £45

Megadroth Remains :  
$60 
€45 £35

Skaven Deathmaster :  
$35 
€27 £21

Sylvaneth – Lady of Vines :  
$50 
€40 £30


Warcry Compendium:  
$45 
€35 £27.50
"The Warcry Compendium pulls together the fighter profiles and faction abilities for warbands from Grand Alliance Order, Grand Alliance Destruction, Grand Alliance Death, and Grand Alliance Chaos in a single grand tome. With over 800 profiles to reference in your games, it's an ideal guide to using your Warhammer Age of Sigmar miniatures in Warcry."

Warcry Centaurion Marshal:  
$42 
€34 £26

Warcry Chaos Legionaries:  
$60 
€45 £35
Be you Lumineth or Tzeentch?!
Subscribe to our e-newsletter!
Get Tabletop, RPG & Pop Culture information delivered on to your inbox.
Dad, Gamer, Publisher, Pilot, Texan. All video games on a regular basis since junior-high.
I began BoLS Interactive in 2006. I'm a lifelong tabletop & RPG gaming fanatic, and web writer working to entertain and inform my readers day by day.
I've been taking part in RPGs and Tabletop Games for the reason that Seventies. I'm been taking part in and masking Warhammer and Warhammer 40K for over 35 years.